Spotlight on Hot Stuff: Not to be missed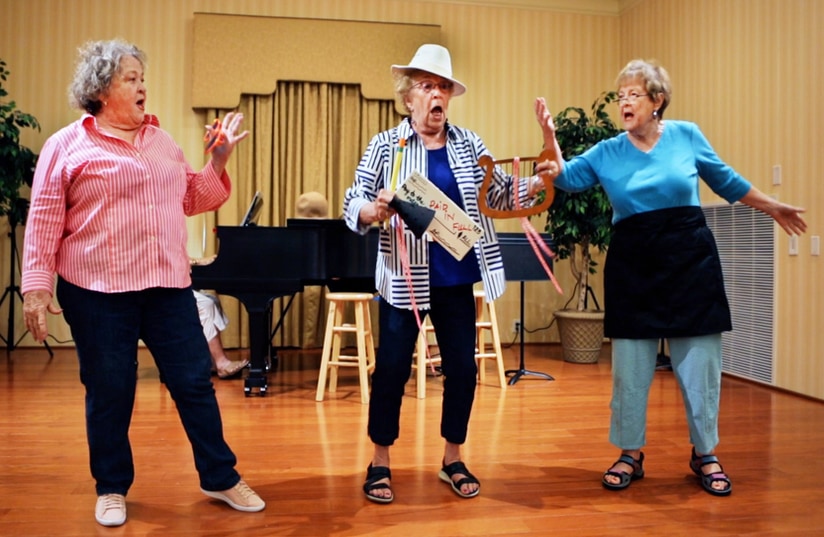 by Rich Hendel and Sally Senner.
It all began sometime in early 2015 when the Cultural Arts Committee had an idea to put on a Cedars talent show. Pat Beyle, head of the committee, was asked to produce it. After the last performance, Jane Hauser came to Pat with a suggestion they might do a show together with fewer people.
Pat had taught music in the Chapel Hill schools and Jane was a public storyteller. Jane drafted her sister Mary Crabill (a Member at the time), who had also performed. They knew they wanted to have songs, so needing someone to accompany them convinced pianist Karen Cooper to join the team.
The four went off to Jane's beach house and came up with the idea of doing a knockoff of the old TV comedy Laugh-In. There was a segment with a wall of little windows on that show. One window would open, someone would pop out, tell a hilarious lame joke, close the window, and others would pop open with someone telling more 'awful' jokes.
What Pat, Jane, and Mary envisioned was the same, with perhaps even worse jokes, corrupted popular songs (including one by Tom Lehrer), self-deprecating poetry about aging décolletage and fading memory, and much more other silliness.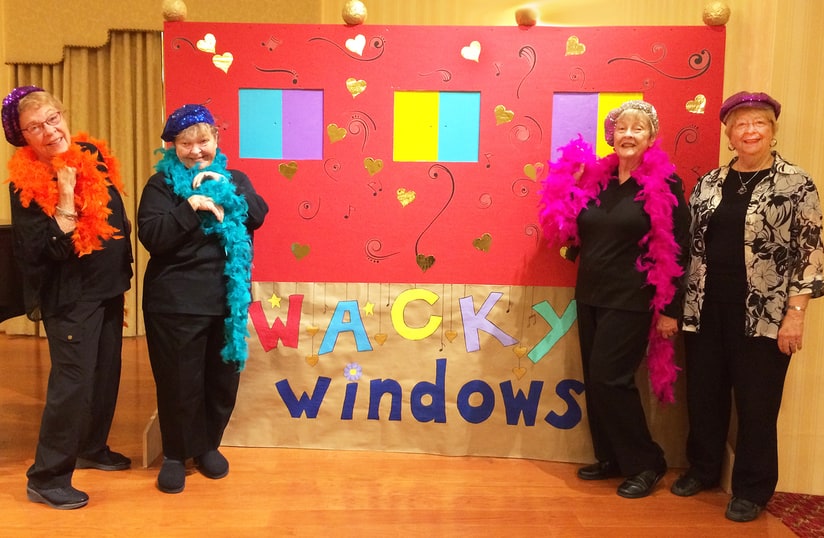 That first show in 2015, Hot Stuff: Three Women Whose Ages Are Higher Than Their Thermostats, was such a success that there was a full house for two shows. Encouraged by this, the four of them shamelessly put together a new show the following year called Double Hot Stuff which was again a two-show sell-out.
News of the show reached other area CCRCs, so Hot Stuff went on the road touring Carolina Meadows, Carol Woods, and The Forest at Duke. For Hot Stuff: Triple By-Pass in 2018, the group drafted Hunnell Lopez to sing "Don't Worry, Be Happy" with the ladies as backup singers called the Hunettes. Stephen Deal and Tina Giralt became hilarious versions of Sonny and Cher (the vision of Stephen with Sonny Bono- hair was a sight difficult to erase from your mind), and the crew from maintenance did a takeoff on the Village People's YMCA song.
Hot Stuff: Last Call in 2019 was their final performance. It was a sold-out performance, literally— this was the first time they charged a small fee. $4,000 was raised in aid of the Scholarship Fund. Knowing this was to be the final Hot Stuff, tickets were scarce, causing one desperate, ticketless-Member to try to force her way in. Luckily, Pat Beyle's son-in-law, a documentary film producer, had learned of the show and came to record it.
The nationally recognized documentary, Show Must Go On!, will be shown Thursday, September 15, at 7 PM on PBS.  It is not to be missed.
You don't even need a ticket!