Cedars PORCH Food Collection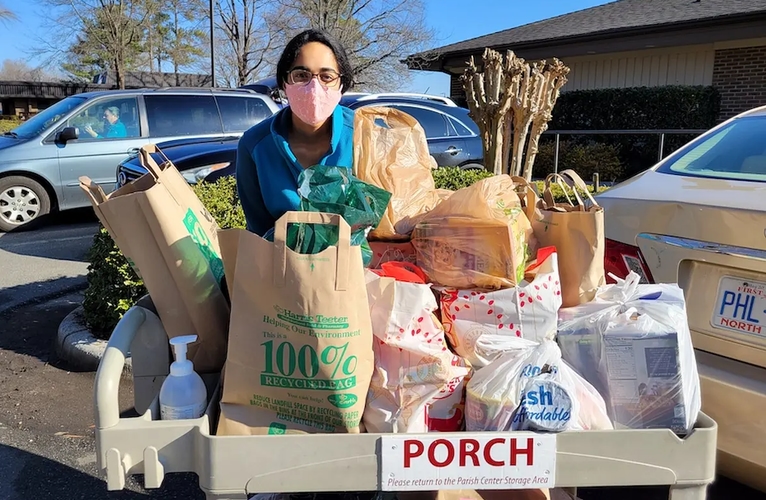 The monthly Cedars PORCH food collection will be on Monday, August 15th, at 8:30 AM.
If you have food to donate this month, please have it outside by 8:30 AM. Bags should be visible from the street so our volunteer driver will know to stop to make a pickup. Residents of Davie & Moore Verandas, Villas & Cottages should leave food donations on your front porches. Residents of Verandas that are back on Pine Needle Lane should leave food donations on the benches in your parking lots. Contact Joy Metelits, joymetelits@gmail.com, for an early pickup, OR you can drop your donation at Joy's door on the first floor of the Bladen Building, 411 Cedar Club Circle anytime between now and Sunday, August 14th.
All non-perishable foods & packages of condiments are always appreciated. Also, when you clean out your home pantry, we are happy to take any unexpired food.
CHECK & CASH DONATIONS: To support PORCH with a check, you may leave it with the Cedars Clubhouse Concierge or mail it to PORCH Chapel Hill-Carrboro, PO Box 16363 Chapel Hill, NC 27516-6363. Please make checks payable to PORCH Chapel Hill-Carrboro. In addition, online donations are accepted at https://chapelhill.porchcommunities.org/donate/. All donations are tax-deductible.
Thank you, Cedars Volunteers, Donors, and Participants! You are partners who make a difference in the lives of many families in our Chapel Hill-Carrboro community.
PORCH NEWS:
We here at The Cedars are so important to the success of PORCH and its commitment that each person in our Chapel Hill-Carrboro community will have access to nutritious food to meet their dietary needs for an active, productive, and healthy lifestyle.
PORCH has increased the balance on each monthly grocery store gift card sent to Food for Families program participants to $60, knowing that the money doesn't go as far as it did even weeks ago. In addition, they continue to develop partnerships that make it possible to distribute more seasonal fresh produce, including local berries, peaches, and corn.
How some have supported PORCH this summer:  Many have hosted lemonade stands, bake sales, etc., to benefit PORCH. PORCH suggests that if you have an upcoming cookout, party, or some other gathering at your civic group, place of worship, school, or workplace, invite everyone to bring a couple of non-perishable items. Then contact your PORCH neighborhood Coordinator to arrange pickup and delivery to the PORCH distribution site. Joy Metelits  joymetelits@gmail.com.
Remaining 2022 PORCH Collection Dates: Aug 15, Sept 19, Oct 17, Nov 14, Dec 12
To learn more about PORCH and to help spread the word, read their 2021 PORCH Impact Report and visit the PORCH Website at https://chapelhill.porchcommunities.org/. In addition, you can read inspiring PORCH stories about neighbors helping neighbors on our blog.