Welcome Home
The independence and financial stability of owning your own home, without all the hassles, is all yours. And, with more than 35 beautiful, thoughtfully designed floor plans starting at $325,000, the choice is all yours as well.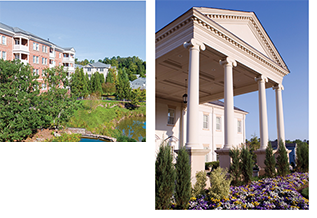 Your Home Is Your Asset.
Members of The Cedars own their own homes and pay a non-refundable, non-transferable club and community membership fee equal to 10% of the purchase price. So when you become a member, and secure the economic benefits of home ownership, your home becomes an asset that can be sold. Of course, because you own your home, Durham County and Chapel Hill property taxes apply.
PREFERRED FUTURE OWNER.
As a preferred future owner, when a home with your desired floor plan becomes available, you're among the first to be notified. And, as you well know, timing is everything and sellers have every right to agree to the first offer they find acceptable. So most buyers appreciate the opportunity to have the first look before anyone else. Our Preferred Future Owner Program makes that possible.
HOW TO JOIN
Step 1. Complete a Confidential Membership Application
Step 2. Complete a Preferred Future Owner Agreement
Complete and sign a Preferred Future Owner Agreement. The Preferred Future Owner Agreement provides space for the type of home or other criteria that you are interested in. There is also space to indicate the general time frame for acquiring a home at The Cedars.
Step 3. Make Deposit
Each application for the Preferred Future Owner must be accompanied by a refundable deposit of $1,000 plus a non refundable application fee of $500. The $1,000 deposit is refundable at any time and for any reason. The total is $1,500.
Step 4. Mail to The Cedars
Mail your Confidential Membership Application, Preferred Future Owner Agreement and check for $1,500 to the following address:
The Cedars of Chapel Hill, LLC
Marketing Department
100 Cedar Club Circle
Chapel Hill, NC 27517
Step 5. Approval Process
Your information will be reviewed and we will notify you when you are added as a Preferred Future Owner. At any time you may change your home preferences and/or anticipated acquisition time frame.
You will be invited to special events and we would love to periodically host you for lunch or dinner.
Thank you for seeking to become a Preferred Future Owner. We look forward to one day welcoming you to your new home at The Cedars.